We help maintaining a beautiful and comfortable living environment via various services such as the operation of board meetings, general assembly meetings and condominium associations, the development of long-term repair plans, superintendent and cleaning services and equipment inspections.
The Condominium Management Division provides the following services: billing condominium fees and contributions to the repairs & maintenance fund, accounting operations for condominium associations, the operation of condominium associations, superintendent and cleaning services, inspections, supervision of construction work with drawings, repair and renovation of exclusively owned areas.
Information on the services provided by the Condominium Management Division
Front and back office operations
Condominium fees receipt and storage
Processing payables and book keeping
Overdue payment management
Developing budget and financial statement drafts
Making income and expenditure reports
Attending general assembly meetings and board meetings
Developing long-term repair plans
| | | | |
| --- | --- | --- | --- |
| | March, 2017 | March, 2016 | March, 2015 |
| Condominiums | 87 Associations | 86 Associations | 85 Associations |
| Management | 99 buildings | 98 buildings | 97 buildings |
| Number of units | 5368 units | 5256 units | 5122 units |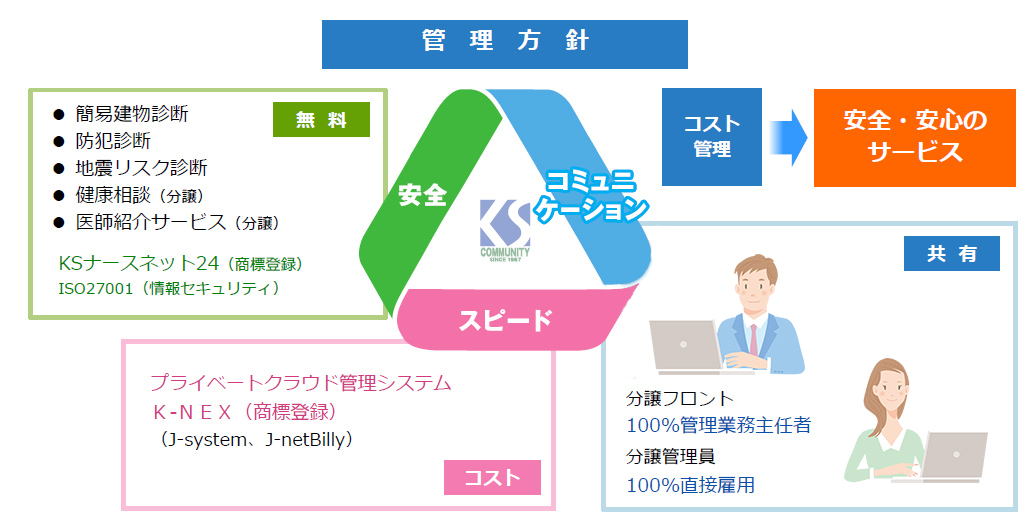 Accounting, financial reports and fee receipt
By utilizing an accounting system that centrally manages everything from the collection of condominium fees and contributions to the repair & maintenance fund to the development of financial reports, we output financial reports for all properties under our management on the fifth day (business day) of each month.
Arranging board meetings, general assembly meetings and supporting condominium associations
We weekly discuss problems and solutions of each property during in-house front staff meetings (on Friday).
Making preparations for board and general assembly meetings by developing minutes, documents and agendas (operational support). Processing contract-related paperwork.
Neighborhood affairs, such as issues among unit owners, and legal issues.
Cooperating with our corporate lawyers to handle the problems.
Building Communication
A group of our staff members, including persons in charge of front-office operations, accounting and after-sale services and instructors for superintendent training, collaborate with one another to provide adequate support for condominiums while promoting communication with condominium associations.
Clear Financial Reports
We centrally manage everything from fee receipt to the creation of financial reports including monthly submission of a financial report via the Internet.Members explain the details of the report at each board meeting.
The necessity of long-term repair plans
Condominiums "comfort level" can certainly be affected in case of absence of maintenance even in sturdy buildings made of reinforced concrete due to the aging factor and being subjected to wear and tear.
Condominium buildings are the most precious common asset of unit owners, the value of which will inevitably decrease if left unattended. In order to avoid such a situation, it is necessary for each condominium to develop a long-term maintenance plan for the entire condominium building in light of its specifications and the repair cycle of equipment, and then create specific repair plans.
Related services