Private cloud system
Financial reports and fee receipt
・Central system automatically aggregates data and manages everything from invoice issuance to financial reports.
・Creating monthly financial reports: closing at the end of the month and output the financial reports on the fifth day of next month.
・The person in charge makes a financial report every boardmeeting (accounting for condominium association)
・Preparing documents for board and general assembly meetings, creating minutes, making business plan for the year.
・Discussing problems during weekly front staff meetings held at the company.
・Handling complicated legal problems in collaboration with our corporate lawyers.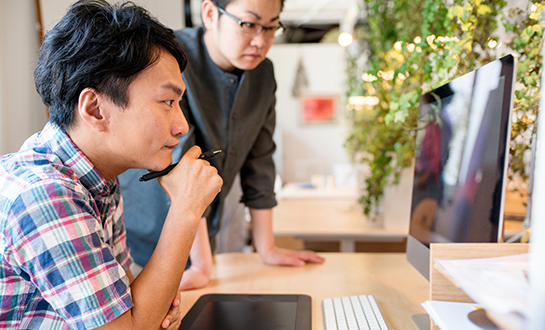 KS head office operational accounting
J-net
PC
Front staff meeting
K-NEX
1.

Background of the K-NEX system

Our company had been using an office computer system as our condominium management system up to November 2008. However, due to the high cost of long-term supply of components and server management, we decided to change the system to a private cloud system in December 2008.

This change enabled us to use the management system anywhere if we have a personal computer and access to the Internet and therefore we can prompt fast response and reduce the costs.

As the private cloud system has been working steadily since its introduction three years ago, we decided to customize part of the system for condominium associations. The result is the condominium management system called K-NEX.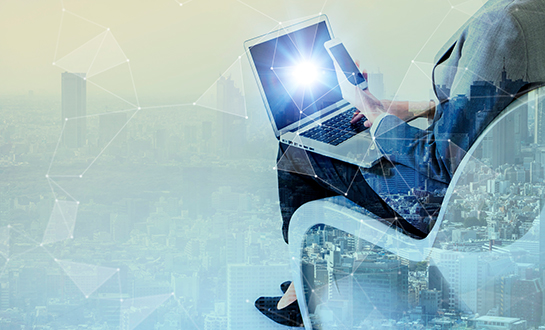 2.

Concept of development

It is generally said that there are two aging issues inherented in the environment surrounding condominiums: aging buildings and aging residents. For the issue of aging buildings, we implement a simple building diagnostics free of charge with the aim of realizing safe and secure management and increasing the asset value of each condominium in mind.
For the issue of aging residents, there are many cases where elderly residents do not want to become board members due to troublesome issues involved in the management of condominium associations and where delinquency in the payment of condominium fees and contributions to the repair & maintenance fund occurs, leading troubles in condominium associations.
In an effort to help solve such problems, we built this new system.
Moreover, we have been promoting activities to reduce paper use as part of our environmental measures, such as paperless fax (launched in May 2008), private cloud system (launched in December 2008), the use of tablet PCs (launched in June 2011) and paperless meetings (launched in October 2011).
We promote the K-NEX system as part of our corporate vision, Aiming at becoming a people and earth-friendly management company.
3.

How will K-NEX change condominium management?

It will significantly reduce time and effort required for the management of condominiums. If you have access to the Internet and a personal computer, a tablet computer or an iPad, you can view office management information (information on paid facilities, such as parking lots and bicycle parking areas, information on uncollected condominium fees, balance sheets, financial reports, etc.) anytime anywhere.
Since the system can be used anywhere,it can be introduced to condominiums not in urban areas. We believe that this system can help preventing the hollowing-out of condominium management by ensuring the implementation of mission-critical tasks and thereby enhancing the asset value of condominiums.
4.

Management service limited to accounting as a new service

The unit owners of self-managed condominiums tend to conduct cleaning, small repairs and the management of equipment and plants by themselves and often form a strong community.
Since we are a general management company, our condominium associations can outsource all management operations. However, the K-NEX system, which is an office management system based on accounting, enables condominium associations to use it only for the accounting operations while maintaining their conventional management form in other operations.
In such cases, however, our company conducts the following: entry of resident data, procedures to automatically deduct payments from bank accounts, billing of condominium fees and the development of accounting materials. Condominium associations do not have to do any entry operations or bear costs when introducing the K-NEX system.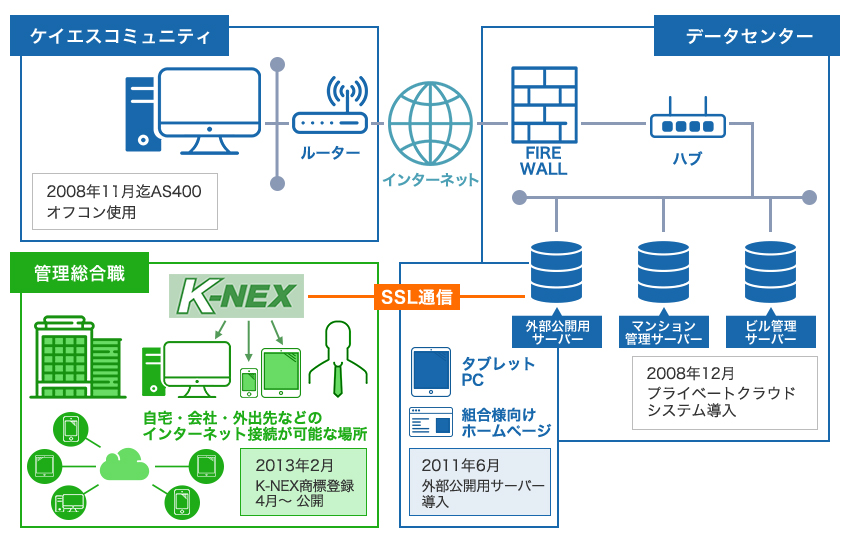 K-NEX Site
Condominium accounting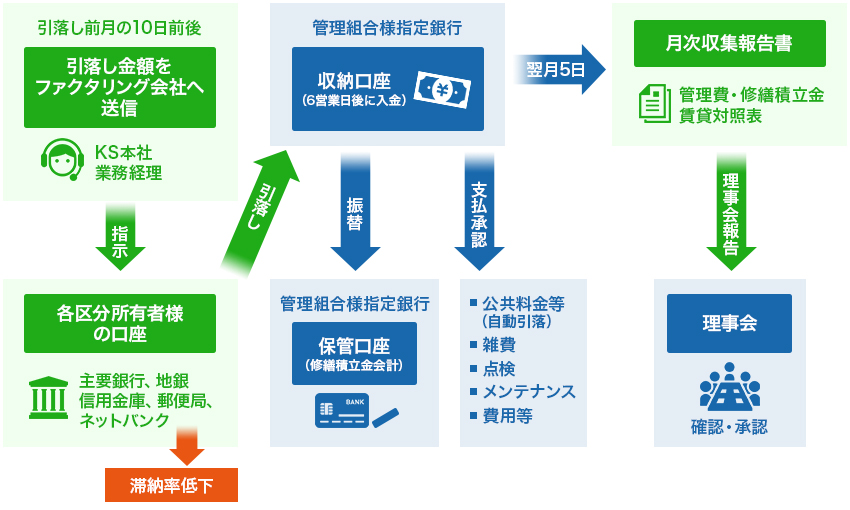 Superintendent/Cleaning Service
Common operations
Superintendent Service (Direct Hire Superintendent )
Front desk
Attendance at inspections
Reporting and acting as a liaison
Training
We're conducting a combination training four times a year and subsequent visiting superintendent training by instructors
Superintendent Services
Daily Cleaning Services
Special Cleaning Services
Superintendent combination training
Building Equipment Inspection
Characteristics
Inspection of plumbing equipment, elevator equipment and fire alarms conducted by technicians
24 hour service (common area)
Flow of inspection

Eco Solutions
We resolve our customers' problems by providing people and earth-friendly, ecological and economical proposals.
What is Eco Solution?
Environment-friendly

Ecology

Saving

Economy

Resolution

Solution
LED
We believe that replacing conventional lighting with environmentally friendly LED lights, which reduce CO2 emissions, have no mercury and lower power consumption, is an integral part of our efforts toward the realization of our long-term vision,"a people and earth-friendly general building management company."Based on that belief, we're actively focusing on this replacement activity.
少ない消費電力!
長寿命
すぐに明るく
低紫外線・低赤外線
虫が集まりにくい
地球にやさしい
Double Window Sash
Wall Greening
In June 2012, we greened some walls of our head office building.
Solar Panel
In June 2014, photovoltaic facilities were installed on a land owned by the KS Group in Ikeda, Osaka.
Exclusively-owned area service K-LifeCall
This exclusively-owned area service K-LifeCall is provided only for residents living in condominiums under our management.
Exclusively-owned area service has free standard and 2 types of charged service as plus and premium. Charged service requires an exclusively-owned area service contract with management association.
K-LifeCall Standard

(Free)

PDF Download

K-LifeCall Plus

(Charged service)

Contract with management association is required

PDF Download

K-LifeCall Premium

(Charged service)

Contract with management association is required

PDF Download
Medical Services/KS Nurse Net 24
Our wish is to provide healthy and spiritually rich lives to everyone.
This is a free service that we provide to residents living in condominiums under our management.
Medical Services
Members-only Health Club
Hirako Health Club (for customers from Hirakata, Osaka)
Community-based members-only medical service (Charged)
1

Medical Checkup Service

Once a year members can have a free medical checkup which is decided by the hospital. This is not only useful in early detection/early treatment but also helps members to maintain their health by examination such as prevention of lifestyle-related diseases, etc.

[Free optional examination service]
Members can choose one of these examination and get checked up for free: heart checkup, large intestine checkup, breast cancer checkup, brain checkup.

2

24-hour Health Consulting Call Service

Nurses, well experienced doctors and public health nurses will consult with you about health issues, medical, nursing and child care all year around. They'll also give you some advices about your concerned symptoms of the body, first-aid treatment and show you the medical institutions where you can be checked up at night or on holidays.

3

Second Opinion Service

In case of diseases that require expertise, our well experienced specialist staffs will consult with members and arrange/introduce them to well‐known doctors who represent Japan in specialized fields. (synthesis consultants)

4

Other club services

① Consultation fee(a part)Free
For patients visiting Hirakata Kosai Hospital for the first time, first consultation will be free.

② Medical Examination Reservation Service
Patients having medical checkup at Hirakata Kosai Hospital can make a reservation in advance by phone.(Same-day reservations are not accepted)

★ Please refer to the attached leaflet for more information about the membership fees.
PDF Download
Nurse Net 24
1

24-hour Health Consulting Call Service

Taking care of babies having fever at night.
Teaching first aid treatment for injuries.
People who get stressed and mentally exhausted.
People want to ask about family nursing.
Showing medical institutions where patients can be checked up at night or on holidays.

In those cases, don't worry and contact us right away.

Free dial

0120-112-752

24 hours/all year around

2

Specialist arrangement/introducing services (second opinion)

① Second opinion by phone
You can ask on the phone for a second opinion about the disease symptoms during treatment, the viewpoint about the present diagnosis and future treatment plan/method.

② Second opinion by consultation
By talking to synthesis consultants you can ask for a second opinion about the disease symptoms during the treatment, the viewpoint about the present diagnosis and future treatment plan/method to choose a better medical treatment.

[Introducing excellent medical specialists ]
In case patients require expertise higher than synthesis consultants we will introduce the most suitable and excellent medical specialists.
★ Please refer to the attached leaflet for details.
PDF Download
Important matters investigation request form
Please confirm in advance with the owner if the apartment is under our management or not.
①Please download the Important matters investigation request form and fill in all the necessary contents.
②Please fax us the request form and the issue fee's transfer slip.
③The registration will be completed at the time we confirm.
④Investigation report submission will take a few days. Please understand beforehand that the shipping date may not fulfill your expectations.
Excel Download
PDF Download
If you can not open the Excel file, please use it after saving.
Front desk FAX number: 06-6208-0514
Reception time for investigation report
Weekday 9:00~17:00 (except for new year and other holidays)
Investigation request form (Excel download)(PDF download)
※We can't answer questions besides consignment management such as contents related to incidents/accidents as well as privacy issues among residents.
※All transfer fees will be paid by customers.
※Receipt and invoice will not be issued.
Contact us
■Condominium Management 06-6208-0512 <Receiption time:Weekday 9:00~17:00>